Summary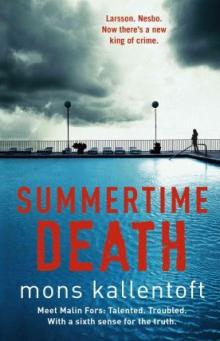 It's tough being a single mother, letting your child go away, facing time alone. Especially when the forest fires here are raging and young girls are being defiled. Ironic, since it's because of your ex-husband's bravery in the same sort of forest fires that your daughter is being taken away, but her experience is going to be of the holiday of a lifetime in Bali. Now, in time and place nearer to home, someone else's daughter has also been taken away, but left so traumatised by her experience she is unable to speak about it.
Inspector Malin Fors
has two ways of dealing with that – drinking herself drunk and falling back on dependable sex with
Daniel Hogfeldt
, erstwhile reporter and 'body, male, one, for the use of'.
Work is an equally dependable proposition. Mentor
Sven Sjomen
, a man whose continuing well-being concerns her, brings his own touch to the investigation into missing, abducted and violated young girls. On an everyday level, there is
Zeke Martinsson
. Maybe not as sharp or involved with the investigation, but he is just the sort of person who will turn up the connection that makes sense of a morass of unyielding facts. Too many people potentially involved, and each victim a reminder of the vulnerability of her own child. And in the end, blue was never going to be her favourite colour.