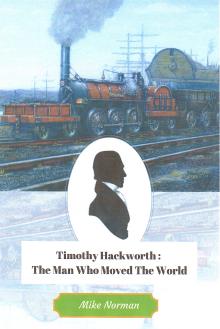 A Story, a Man and a Town
A grandson's 19th Century quest to uncover the truth about one of the pioneers of the locomotives is told against the backdrop of the famed Chicago World's Fair. Plus, life of the man and the history of Shildon.
Reviews
"Superb adventure into the history of steam locomotive pioneers, filled with details history sought to leave unmentioned and unanswered. You step right back to that time with ease, it grabs your interest and doesn't let go."
"Gripping from the start to the end, it is impossible not to come away with some real insights into the industrial revolution that brought railways to the world and how it was driven by two English engineers and businessmen."
"Largely - and unjustly - sidelined by history, Timothy Hackworth was arguably the most important of the soot-soiled early railway pioneers who eventually set the whole world in motion. Mike Norman eloquently puts the case for the humble and hard-working Darlington Methodist who was effectively cheated of his legacy by the Machiavellian showmanship of entrepreneur George Stephenson."
"Very enjoyable, informative book. Even without the locomotives it is a fascinating human story."
"Meticulously researched and engagingly written, it reads like a thinking man's thriller."
"This book provides some real insights into the themes playing out today in many industries - competition, inventiveness and timing are all as important in the world of Amazon, Apple and Google as they were in the past."
"Locomotives, inventions, defeats and triumphs - all along with a cast of real characters including George Stephenson and Timothy Hackworth - are all part of this intriguing, informative and impeccably researched historical narrative."