Summary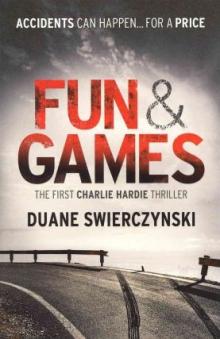 Hollywood has its own way of dealing with trouble. Get rid of it. Call in the Accident Group – people who can smooth over any difficulty that the 'beautiful people' get themselves into.
Lane Madden
has a past that means she is going to be one of those things that gets smoothed over. Her death on the Pacific Coast Highway was supposed to be choreographed into banality. It was
Mann
's show, she would run it.
Malibu
would set up the accident.
O'Neal
was intent on finishing it. But it took a bigger crew to put it all to bed.
Ex-Cop,
Charles Hardie
was in the wrong place at the wrong time. House sitting should have been a breeze. Not so. Bad enough that he gets caught up in the life of a fading Hollywood actress at all. Leaping from one tough spot to another – Charlie's on a never-ending journey dealing with determined murderous attempts on his and Lane's life. Mayhem doesn't even begin to describe it. Unbelievable! He needs all his wit, strength and courage to stand a chance against them. And who can say that it's ever over?