Summary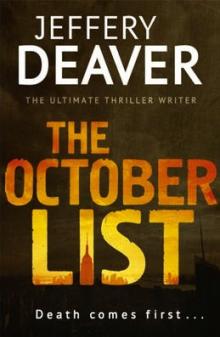 Gabriela is sitting in an apartment in Manhattan, watching the clock. Her daughter has been kidnapped; she's shot and killed a man; she's trying to evade the police and negotiate with the kidnapper. He is a killer who wants the October List and a great deal of money...
Jeffery Deaver is known for his twists and turns - and for challenging the reader to guess where he is going with these twists and turns before reaching the end. The October List is a thriller written backwards, so this time the race is on to beat him to the beginning!
Deaver himself was surprised at the complications of writing the timeline backwards; there is no let-up on the tension, and there are no fewer twists because of it. There are clues to follow, if you can spot them, but as always with Deaver, the reveals are unexpected and shocking.