A life on the Ocean wave
The deal: you go to Germany, take out Ernst, come home. The outlook is bleak. A betrayal has given Naval Intelligence all the evidence they needed of your single moment of carelessness. Go to the chair for that killing or have the slate wiped clean and get paid handsomely for doing what they want. No choice – you are in their hands and the timing is perfect.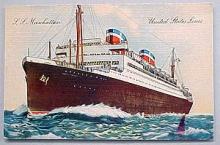 Berlin is host to the 1936 Olympic Games. Your cover - you are a Sports Reporter attached to the American team. Looking for news stories will give you licence to leave the Olympic Village and go into the city. Then our agent in Berlin will assist.

So it's off to join the American athletes for the ten-day voyage, along with your two minders – to make sure you get there – and a German spy. A man who overhears their careless conversations. But did his warning message about the plot and the threat to the ambitions of the Third Reich get through?